ULRICH J. WOLFF
1955 geboren in Schwaigern
Studium der Malerei und Grafik an der Staatlichen Akademie
der Bildenden Künste Karlsruhe, Meisterschüler bei Gerd van Dülmen
Lehrer für Radierung und Siebdruck an der Kunstakademie Karlsruhe
Mitglied im Künstlerbund Baden-Württemberg
Auszeichnungen Awards
2017 Jury Prize der First International Print Biennale, Center for Contemporary Experimental Art Yerevan, Yerevan 2017, Armenien
2017 Special Award der 8th Splitgraphic International Graphic Art Biennial Split 2017, Old City Hall Split, Croatia
2015 Grosser Preis der 5th Guanlan International Print Biennal 2015 Guanlan, Print Art Museum Guanlan, China
2006 Karlheinz Knoedler-Preis 2006, Kunstverein Ellwangen
2004 Forum Forst Kunstpreis 2004, Forst
2000 Heinrich von Zügel Kunstpreis 2000 der Stadt Wörth am Rhein
1993 Bronz medal of the 1st Egyptian International Print Triennale 1993, Kairo, Ägypten


Beteiligung an über 210 nationalen und internationalen Ausstellungen und Kunstmessen,
u.a. in Ägypten, Armenien, Argentinien, Belgien, Brasilien, Bosnien, China, Deutschland, Kroatien, Finnland, Frankreich, Holland, Italien,
Japan, Marokko, Mazedonien, Polen, Russland, Schweiz, Slowakei, Spanien, Schweden, Österreich, USA.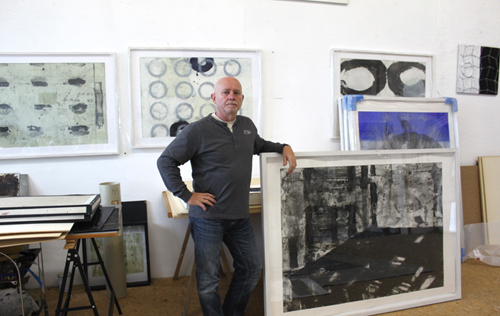 Ulrich J. Wolff
Born in 1955 in Schwaigern, Germany
Awards/Auszeichnungen
2017 Prize of the Jury, First International Print Biennale Yerevan/Armenia
2017 Specialaward of 8th Splitgraphic International Graphic Art Biennial Split/Croatia
2015 Grande Prize of Guanlan International Print Biennial Guanlan/China
2006 Karlheinz Knoedler-Preis Ellwangen/Germany
2004 Kunst Forum Forst Kunstpreis Forst/Germany
2000 Heinrich von Zügel Kunstpreis of the City of Wörth/Germany
1993 Bronze Medal of 1st Egyptian International Print Triennale, Kairo/Egyptian
Selected Group Exhibitions
8th Splitgraphic International Graphic Art Biennial Split (award winner), Croatia
First International Print Biennale Yerevan 2017(award winner), Armenia
1st International Triennial of Graphic Arts Livono, Bosnia-Herzegovina
International Print Triennial Krakow-Falun/Sweden, Dalarnas Museum Falun, Sweden
International Print Biennial Guanlan 2015 China, (award winner), Printmaker Museum/China
Highpoint Center for Printmaking, Minneapolis / USA
XII Baltic States Biennale of Graphic Art "Kaliningrad" Kaliningrad Art Gallery, Russia
VIII L'arte e il Tochio - Art and the Printing Press Cremona/Italy
The Book of Seven Sisters" Coimbria Library University of Coimbria /Portugal
2nd International Printmaking Symposium "Out of the Studio" Abbey of Bentlage, Germany
Estampadura: European Print Triennal, Toulouse/France
Prints-without-Frontiers: International Print Network 2010 Krakow/Poland, Oldenburg, Vienna
Masterpieces of Art Printing, Gallery of the City of Karlsruhe/Germany
1th. Internationale Print Biennal, Maastrich/Netherlands
12th Internationale Triennale of Graphic Art, Grenchen/Switzerland
4th Graphik Biennale, Wakayama/Japan
Participation at more than 210 national and international exhibitions for graphics and art exhibitions
e.g. in Egypt, Argentina, Armenia, Belgium, Brazil, China, Croatia, Finland, France, Germany, the Netherlands, Italy, Japan,
Morocco, Macedonia, Poland, Russia, Switzerland, Slovakia, Spain, Sweden, Austria, United States.
Selected Personal Exhibitions
The Beauty of the Profane, Gallery Josef Nisters, Speyer/Germany
Graphic Faculty Academy of Fine Arts in Krakow, Krakow/Poland
Art Karlsruhe 2014 "One artist show", Gallery Knecht and Burster, Karlsruhe/Germany
TownPerson, Gallery Knecht and Burster, Karlsruhe/Germany
Painting and Unicum Etching, Gallery Julia Dorsch, Berlin/Germany
TownPerson, Gallery Luther, Dinslaken/Germany
Galerie Klinger, (mit E. Chillida) Görlitz/Germany
Galerie Helmut Dreiseitel, New work, Cologne/Germany
Unikatradierungen und Bildobjekte, Galerie Königsblau, Stuttgart/Germany
Aiguaforts 1990-1994 Galeria Joan Gaspar, Barcelona/Spain
Color Etching, Museum Moderner Kunst, Passau/Germany
Etchings, Galeria Britta Prinz, Madrid/Spain